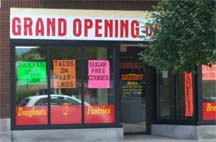 Drawing people to your grand opening is more than hanging a banners saying "Grand Opening".  To craft a successful grand opening, you need to personally invite people to attend. A marketing tool called a grand opening invitation can assist in accomplishing this task. The grand opening invitation formally requests the presents of honored guests to attend the ribbon cutting ceremony. The invitation will include arrival time, location, and brief schedule of activities occurring at the event.  Since this is a formal invite, you will request they RSVP.  The RSVP will provide you with critical data for calculating the number of media kits and give-a-ways needed. Vendors, VIP customers, government officials, and media organizations should all receive a formal invitation.
RSVP for a Gift
Requesting a guest to RSVP implies that their present is important. Increase RSVP by including the following statement: Please RSVP for your free gift.  The free gift is a small thank you for attending, plus you can present them with a media pack. At this time you can request the number of attendees coming. Remember the more the merry, word of mouth advertising can help a business grow exponentially. If a spouse enjoys themselves at a grand opening, they will tell others about their experience and about your company.
Grand Opening Invite Design
The look and feel of the grand opening invitation can take many shapes
Postcard
Card
Invasion box
CD – DVD
The invitation design should reflect your corporate image. This subtle marketing technique will help you associate your business logo, slogan, and business philosophy to the customer. Grand opening invitations are your first impression made on the honored guests.
Colors, shape, and size will vary based on corporate image and budget.  If your company has a corporate logo or specific colors, work them into the design of the invitation.  If not, you can use a stock image to help enhance your invitation. Companies like Invitation Consultants specialize in creating invitations and prices start at $57.00.
Do it yourself Grand Opening Invites
Microsoft Publisher comes with built-in templates to create your own invitation or use MS-Word templates online and design your own invitation. Don't limit your grand opening invitations to boring white paper.  Add color by using customer paper and envelopes.  Browse your local office supply store for custom paper and envelopes and do the printing yourself.
Subscribe to GrandOpeningHelp.com and keep getting tips and ideas on how to have a successful grand opening.