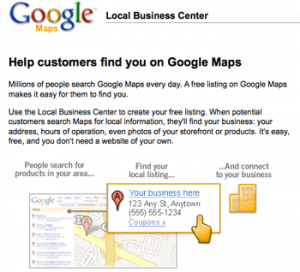 Google, the leader in web searching, can literally direct people to your new location.  Do not rely on people driving by your store to find you.  Listing your business on Google Maps is a great way to increase a stores exposure. With the popularity of portable in-car GPS and mobile phone GPS application technology becoming affordable, it becomes vital that you register your company in these devices.
Since portable GPS technology is becoming cheaper and easier to use, people are relying on these devices to help them find products and services they acquire.   Google offers companies the ability to display photos of your business, its hours of operation, contact numbers and consumer reviews. Simply go to Google's Local Business Center and entering your business details.
Google typically scans the Yellow Page to obtain business information. However, Google does allow business owners to enter their business information free of charge using the Google Local Business Center.
All you need to do this is have a Google Account.  Sign in with your username and password and follow the simple instructions to create a listing. You can enter details including business name, address, contact numbers, Web site, e-mail address and a 200-word description of your business.
Once you have submitted this information, Google will verify it before it publishes your information. You will receive by regular mail, a confirmation notice sent to your business address. First then will Google publish your business information on all the company's relevant applications once verified. Google claims the entire process should take "a few weeks".
If you need to edit your business listing, simply use the editing tools inside the Google Business Center. The edited information is only displayed after the verification process is completed. Every time you change your business listing, Google will need to verify it before displaying the new changes.
Once listed in the Google directory, customers will be able to get directions to and from your business along with searching for nearby points of interest (POIs).  Included is the capability to view your business using Google Street View along with adding comments and reviews, which in turn helps generate a Web presents. Business owners can use Google Local Business Center to contact customers with Google profiles, which allows businesses to contact these individuals to ask follow up questions or request feedback on services or sales.
Conveniently, Google allows new business owners to take over a listing in the event of a change of ownership, preventing the need of relisting the business.
This is a free service offered by Google.  All instructions are straightforward and takes minutes to complete. To add your business to Google Maps, simply visit the Google Local Business Center.
Subscribe to GrandOpeningHelp.com and keep getting tips and ideas on how to have a successful grand opening.