Inexpensive way to have Grand Opening Flyers Designed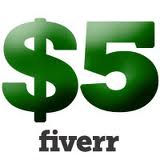 Companies first starting out are always under tight budget constraints and don't always have the time and personnel to help them with creating flyers or announcements.  Here is a quick and inexpensive way to have flyers, business cards, and posters designed without breaking the bank.
Fiverr.com is a place for people to share things they're willing to do for $5.00: Funny and bizarre, social marketing, graphics, advertising, technology, business project all can be hired for $5.00.  Imagine you want to have a simple flyer made advertising your grand opening to use on social media networks.  Instead of wasting time doing it yourself, spend $5.00 and have a professional build a poster or flyer for you in 2-3 days.  Most designers will allow one to six revisions to a flyer, but the nice part is that this is throw away marketing material.  This is a once in a life time flyer.  Don't spend countless hours designing it, have something created that is professional looking and be finished.  Then use it to market your business grand opening and move on.
There will come a time when you will need a professional graphic designer to build custom advertising, but for now the key is creating a flyer and getting the word out to the public that you're open.